President: Prof Sarah Cartmell
University of Manchester
sarah.cartmell@manchester.ac.uk
Sarah's research is in the area of healthcare technology. Her group develops new biomedical materials, new medical devices and tissue engineering approaches in the area of orthopaedic and woundcare.
She has been an active member of TCES for nearly 20 years. She was TCES membership secretary 2006-2011 and TCES secretary role from 2011-2021, being elected President in July 2021.
Secretary: Dr Lisa White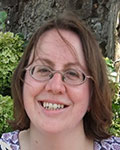 University of Nottingham
lisa.white@nottingham.ac.uk
Lisa White's expertise is in biomaterials for regenerative medicine applications with a particular focus on developing extracellular matrix biomaterials for bone and nervous tissue applications. Lisa has a keen interest in the use of supercritical fluids for biomaterials development and her team also develop polymeric microparticle systems for growth factor and protein delivery and to aid cell engraftment
Treasurer: Prof Nick Forsyth
Keele University
n.r.forsyth@keele.ac.uk
Nick, Dean of Research and Professor of Stem Cell Biology at Keele University has been a Council member since 2015. Nick's research interests span a wide range of regenerative medicine aspects including cell therapy, fundamental stem cell biology (adult and pluripotent), biomaterials, and culture conditions with a focus on respiratory disorders, tendon repair, and diabetes
Membership Secretary: Dr Helen Berry
University of Leeds
H.E.berry@leeds.ac.uk
TCES Net & Awards: Prof Nicholas Evans
University of Southampton
N.D.Evans@soton.ac.uk
Nick works on drug delivery and mechanobiology applied to bone and skin repair. He has been attending TCES events since 2005 and currently co-ordinates TCES Net, TCES awards and looks after the website.
External Relations: Prof James Phillips
University College London
jb.phillips@ucl.ac.uk
James is a nervous system tissue engineer and uses cell, drug, gene and biomaterials therapies for regenerative medicine and modelling application in the CNS and peripheral nerves. He is a TCES Committee member with particular responsibility for external relations.
Conference Liaison and EDI officer: Dr Araida Hidalgo-Bastida
Manchester Metropolitan University
a.hidalgo@mmu.ac.uk
Araida Hidalgo's expertise is on regenerative medicine for skeletal and cardiovascular applications, and diabetes; her team works on bioreactors and micro-tomography for 2D and 3D in vitro models, in addition to biomedical materials (polymers, extra cellular matrix hydrogels and graphene) as delivery vehicles for stem cells, growth factors and/or anti-microbials.
Araida Hidalgo was previously the awards coordinator for TCES and currently has the role of conference liaison, after she hosted TCES2017 @ Manchester Metropolitan University.
Student Recruitment: Dr Stephen Richardson
University of Manchester
S.Richardson@manchester.ac.uk
Steve's research focusses on multipotent and pluripotent stem cell differentiation, biomaterial interaction and application in musculoskeletal tissue engineering, with a focus on cartilaginous tissues such as the intervertebral disc. He has been attending TCES meetings since 2002 and was TCES treasurer from 2014-2023
Travel Bursary Co-ordinator: Prof Jonathan Dawson
University of Southampton
jid@soton.ac.uk
Jon Dawson is a Principal Investigator and EPSRC Research Fellow at the University of Southampton developing nanoclays for regenerative applications. He is currently serving on the TCES committee and ECR representative.
Industrial Liaison: Dr Hadi Mirmalek-Sani
Cell and Gene Therapy Catapult
hadi.mirmalek@gmail.com
Hadi has a background in stem cell biology and tissue engineering but is now the Programme Manager for viral vector (gene therapy) manufacturing at the UK's Cell and Gene Therapy Catapult, jointly overseeing their in-house VV development programme. HMS's role as Industrial Liaison is as a bridge to industry, and through his role at the Catapult, to support the TCES community in translation of their work into the clinic.
Awards Review: Dr Vanessa Hearnden
University of Sheffield
v.hearnden@sheffield.ac.uk
Vanessa Hearnden is lecturer in Tissue Engineering and Biomaterials at the University of Sheffield. Her research looks at soft tissue wound healing, with a focus on the regenerative properties of adipose tissues and its effects on scarring and wound healing.
Vanessa Hearnden was elected to the TCES committee in 2018 and has an interest in connecting our vibrant research community while promoting the work of early career researchers in the field.
Newsletter Co-ordinator: Dr Mahetab Amer
University of Leeds
mahetab.amer@manchester.ac.uk
Mahi is at the University of Manchester, leading a group which focuses on studying and employing 3D material-cell interactions for skeletal tissue engineering and in vitro disease modelling applications. She has been attending TCES since 2014 and was elected to the TCES committee in 2022.
Postgraduate Representative: Emma Kelly
University of Glasgow
e.kelly.2@research.gla.ac.uk
Postdoctoral Representative: Dr Hoda Eltaher
University of Nottingham
hoda.eltaher@nottingham.ac.uk
Hoda works on drug/gene delivery for regenerative medicine and biomedical applications. She has a particular interest in developing composite hydrogels/nanofibers with particulate drug carriers for bone/skin regeneration. Her current role at the university of Nottingham involves gene delivery for regenerative, lung gene therapy and immunization applications. Hoda has been elected as the PDRA Representative since 2022.
President Emeritus: Prof Mark P Lewis
Loughborough University
M.P.Lewis@lboro.ac.uk